Custom Index Tabs (Chart Dividers) & Plastic Id Tags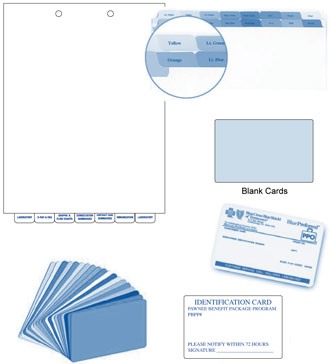 We stock many of the standard dividers:
IHS 677 • 677.1 – 677-6 • IHS 830.1 – 830.10
We also custom print on dividers
white stock
manila
polyethylene (plastic)
clear or colored mylar on the tabs for durability and reinforced holes
collated or uncollated
Call for Custom Quotes!

BlankAddress-O-Graph Cards for Embossing
Blue • Green • Red • Cranberry
$80.00 per 500 2 1/8" x 3 3/8" credit card size
Produces a stress white readable imprint when embossed.
Custom Printed Plastic or Paper ID Cards
We can custom print your facility name and logo
on plastic cards with instructions on the back.
Copying, Duplicating & Promotional Products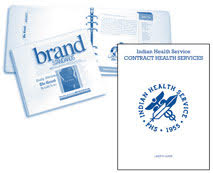 We can produce large volume copying jobs using your sample material or we can typeset and design your project. We can integrate full or spot color into your publication for added impact.
We can spiral bind, staple or insert into 3-ring binders and ship to you or directlyto a seminar or event.
We can beat that large chain copy center–Guaranteed!
We have thousands of promotional products available. Customize with your facility name and logo or with an event or fund raiser.
Great Pricing & Guaranteed Impact!
Refrigerator Magnets
Bumper Stickers
Pens
Mugs
T-shirts
Hats
Frisbees
and MORE!
Call for Catalog and Special Requests.
Call NOW for a FREE quote!
800-808-8716